Edenbridge removals service for your local removal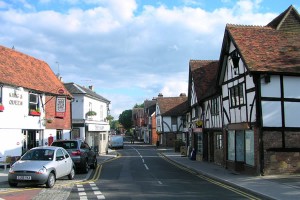 If you're moving to or from Edenbridge then our Local Edenbridge Removals service is what you need for a stress free move. It's well known that moving home is a stressful thing to do – right up there with the worst things that can happen. With that in mind we aim to take the stress out of moving home by making sure all bases are covered and our Local Knowledge at the forefront.
We would be delighted to discuss your move to or from Edenbridge in Kent in a bit more detail.
Call our Edenbridge local number on 01732 651163
A little bit about Edenbridge
Edenbridge is a town and civil parish in the Sevenoaks district of Kent. The name Edenbridge derives from Old English language 'Eadhelmsbrigge' which means 'Eadhelm's Bridge' in Modern English. Edenbridge lies on the Kent and Surrey border on the upper floodplain of the River Medway and gives its name to the latter's tributary, the River Eden. Edenbridge has a population of around 8,000.
For any golfers looking to move to Edenbridge, The Kent & Surrey Golf Course is located nearby and is set amongst 250 acres of Kent and Surrey countryside.
Edenbridge is a good base for touring the surrounding countryside and is within 10-15 minutes drive of the M25 – A25. Good country roads provide easy access to surrounding towns which we also cover Sevenoaks, Tonbridge, Tunbridge Wells, East Grinstead, and Redhill.
[ngg_images source="galleries" container_ids="1″ display_type="photocrati-nextgen_basic_slideshow" gallery_width="690″ gallery_height="460″ cycle_effect="fade" cycle_interval="10″ show_thumbnail_link="1″ thumbnail_link_text="[Show thumbnails]" order_by="sortorder" order_direction="ASC" returns="included" maximum_entity_count="500″]
Transport
Edenbridge has two railway stations Edenbridge Town railway station with typical off-peak service of one train per hour to London Bridge via Oxted and one train per hour to Uckfield. On Sundays the northbound service runs to Oxted only. Edenbridge railway station with a typical off peak service of one train per hour east to Tonbridge railway station, and west to London Victoria via Redhill and East Croydon.
Edenbridge video
A video showing Edenbridge town…
Edenbridge map
Google map showing Edenbridge locality…
Edenbridge links
Local facility
Enterprise Way, Edenbridge, Kent TN8 6HF
We cover the surrounding areas in Kent, East Sussex, West Sussex, Surrey and South East London.